About Vancouver Mall RV Park
Vancouver Mall RV is the premiere RV site for travelers and long-term residents in the Vancouver, WA area. All of our sites are paved with full hookups (20/30/50 amps).
We have a pet-area and a section for off leash. Vancouver Mall RV is located in close proximity to I-205, and SR-500 for easy commuting, and just 5 minutes away from Portland, OR; click here for a list of local attractions.
We are a fully-featured RV park with a ton of options for your Recerational Vehicle or 5th Wheel!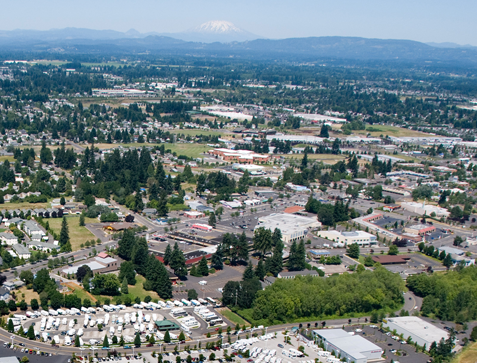 RV Park & Site Features
20, 30, 50 Amp Hookups
Sewer hookups
City water hookup
Over 35' Sites Available
Pull-through sites available
Extra long RV's welcome *
Cable/DirecTV: Click here for the TV Guide
Coin-Op Laundry Facilities on site
Recreation room
Pets Welcome *
Wi-Fi Internet
Reservations accepted ahead of time
Regularly cleaned restrooms with showers
Call us today at (888) 941-9335 with any questions about accomodations for your next stay with us!
* Some Restrictions Apply. Read our regulations below for more information.
Posted RV Park Regulations
General
All city, state, and local ordinances are enforced.
A $50 fine will be assessed for any rule violation.
Vancouver Mall RV Park does not offer any refunds.
A nonrefundable one-night deposit is required to make any reservation.
Check-in time is 1:00pm, and check-out time is 12:00pm. Late check-out is not offered at this time.
Nothing is allowed outside your unit other than patio furniture, a barbeque, or plants. No mats or rugs are allowed on the grass. No swimming or wading pools are allowed.
No more than four (4) people over the age of 18 may occupy any RV site.
Short-term residents may stay up to 45 nights at the nightly/weekly rate.
Truck campers are allowed only on a nightly/weekly basis. Campers must remain on truck at all times, except with prior written permission from management.
Residents staying on a monthly basis must have an RV that is self-sustaining, i.e., must have a working toilet, kitchen, etc.
Any payment(s) received that are returned by the bank for non-sufficient funds (NSF) or any other valid reason are subject to a $50 fee.
Management claims no responsibility for accidents or injuries which may occur within the RV park. Also, management claims no responsibility for damaged or lost property due to theft, fire, wind, flood or any other act of god.
Resident shall not rent out or sublease RV site.
Recreation room is provided for the use of all residents. Recreation room closes promptly at 5:00pm daily.
Laundry room is provided for the use of all residents. Laundry rooms close promptly at 9:00pm daily. Please adhere to the rules posted in the laundry room.
Laundry room and bathroom door codes change monthly. New door codes can be picked up in the office during office hours, or you can fill out a permission slip to have door codes emailed to you. Do not give door codes out to anyone, even other residents, for any reason. Giving out door codes may result in eviction.
Conduct
Loud TVs and music, prolonged dog barking, loud talking or shouting, abusive language, and other disturbing noises or offensive behaviors are not permitted. Interference with the peaceful and productive conduct of other residents and Vancouver Mall RV Park staff may result in eviction.
Residents are responsible for the behavior of their children, animals, and guests at all times.
Please be considerate to other park residents. Quiet hours are 10pm to 7am daily. To report noise complaints please call the local non-emergency phone number 3-1-1.
The use of firearms, fireworks, bows, airsoft or BB guns is strictly prohibited.
Do not walk or drive through other RV sites.
Children must be under adult supervision at all times. There is no playing allowed on the asphalt, in other RV sites, or at dog parks. Throwing or kicking balls is not allowed due to potential damage to RVs or RV park property.
Vehicles
For nightly/weekly stays RVs must be 15 years or newer and in good condition, and for monthly stays RVs must be 10 years or newer and in good condition. Vancouver Mall RV Park makes their own assessments of RV condition.
No more vehicles are allowed than will fit in the RV site. Park in your designated RV site only, do not park on asphalt, grass, or gravel. There is no extended parking by the bathrooms, laundry room, office, or in other RV sites without prior written approval from management. Do not drive over the grass or gravel. Vancouver Mall RV Park makes their own assessments of damages.
All vehicles within the RV park are to be equipped with an adequate and functioning muffler.
Residents are prohibited from performing engine or body maintenance to any vehicles at the RV site.
Any vehicle leaking fluids must be repaired and the fluids cleaned immediately by the resident, and there will be a $50 fine for each leak.
Vancouver Mall RV Park does not allow you to wash any vehicles yourself, but you may have a licensed and bonded professional come in and wash your vehicle for a $20 fee for water use.
All vehicles within the park must abide by the 5 MPH speed limit and all traffic signs.
All vehicles must be properly registered, licensed, and insured.
The operation of dirt bikes, snowmobiles, off-road vehicles, all-terrain vehicles, and other similar vehicles are not allowed within the RV park. No commercial vehicles allowed in the RV park. Boats are not allowed without prior written approval of the management.
Motorcycles are allowed for transportation in and out of the RV park only. Joy riding within the RV park is not allowed. Motorcycles are to be parked in the resident's assigned parking space only.
Animals
Residents may have two (2) registered domesticated animals, 50lbs or less. Management reserves the right to reject aggressive dog breeds, exotic animals such as snakes, wild animals, farm animals, or any other animal which may be dangerous to others in the RV park. Prolonged dog barking is not permitted.
Animals must be kept on a hand-held leash at all times. Animals may not be tethered to the RV or the RV site.
Animals are not allowed in any of the facilities including the office, bathrooms, laundry room, or recreation room.
Do not allow animals to urinate on light posts at the RV site because the acids in the urine corrode the metal.
All animal feces must be immediately cleaned up by the owner.
RV and Site Maintenance
RVs must be kept neat and clean in appearance. All windows and doors are to be in good condition, anything broken is to be repaired immediately, and all repairs must be made with approved RV materials. No plastic tarps, cardboard, tape, etc. is to be used for repairs on the exterior of the RV or to cover possessions outside your RV.
Only septic safe or RV safe toilet paper should be flushed. Absolutely nothing else should be flushed or put down the drain, including but not limited to paper towels, wet wipes, disposable menstrual products, and diapers.
All water and sewer hookups must be tight and without leaks, and sewer hose must have a continuous elevation to prevent backup.
Water is only to be used to hook-up to your RV. No watering plants or cleaning of the RV site is allowed. No more than 2 potted plants per site. No planting allowed.
Tents of any kind are not permitted. Due to possible damage to underground utilities, no stakes of any kind are allowed.
The site must be kept clean and clear at all times. No outside storage buildings allowed at the RV site without prior written approval from management. No alteration of the site is permitted including but not limited to the addition of stones or pavers, and the removal or alteration of any tree, shrub or post. No laundry may be hung outside the RV. All personal possessions must be removed from grass and gravel areas around your RV when not in use to allow for park maintenance.
Garbage is to be separated from recyclables and both are to be placed in the appropriate provided dumpster. Garbage bags are not to be left outside at the RV site. Garbage cans are not to be placed at the RV site. Do not leave anything at dumpsters.
All RVs are to be kept free from fire hazards. For your own safety and the safety of others, do not store combustible materials in or about the RV.
Any RV maintenance requiring someone to be on top of an RV must be done by a licensed and bonded professional. Vancouver Mall RV Park is not responsible for any injury or damages that may occur if this rule is broken.
Monthly Residents
Monthly residents are required to pass a background and credit check. There is a $50 fee application fee per adult. Management reserves the right to accept or deny a prospective resident's application based on the results of background and credit check, or for any reason not prohibited by law.
A one-month space security deposit and a $50 utility deposit are required for all monthly residents.
Monthly rent is due on the 1st of the month. There is a 5-day grace period. Any payments for monthly rent received after end of day on the 5th of the month will be considered late and a $50 late fee will be assessed. It is the tenant's responsibility to pay this on time; no invoices for monthly rent are given.
Electric meters will be read towards the end of the month and invoices will be put in resident's mailboxes by 9:00am on the 1st the month. Electric bills are due on the 1st of the month.
Monthly residents must provide 20-day advance written notice to vacate. Failure to provide this notice will result in forfeiture of the one-month space security deposit.
Monthly residents are required to have current RV insurance with a minimum liability amount of $250,000.00. Residents are required to provide the office will a copy of their certificate of liability insurance.
These rules and regulations are subject to change without written or advance notice. Once posted, rules and regulations go into effect.
Thank you for reading over our park rules and regulations. Residents and guests will be given a copy of our site map and the regulations upon check-in for their use.
Please be considerate, and help make the park a safe, fun, friendly place for everyone! - The Staff