About Van Mall RV Park
Van Mall RV is the premiere RV site for travelers and long-term residents in the Vancouver, WA area. All of our sites are paved with full hookups (20/30/50 amps).
We have a pet-area and a section for off leash. Van Mall RV is located in close proximity to I-205, and SR-500 for easy commuting, and just 5 minutes away from Portland, OR; click here for a list of local attractions.
We are a fully-featured RV park with a ton of options for your Recerational Vehicle or 5th Wheel!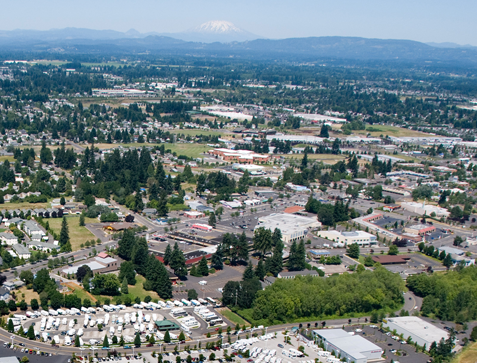 RV Park & Site Features
20, 30, 50 Amp Hookups
Sewer hookups
City water hookup
Over 35' Sites Available
Pull-through sites available
Extra long RV's welcome *
Cable/DirecTV: Click here for the TV Guide
Coin-Op Laundry Facilities on site
Recreation room
Pets Welcome *
Wi-Fi Internet
Reservations accepted ahead of time
Regularly cleaned restrooms with showers
Call us today at (888) 941-9335 with any questions about accomodations for your next stay with us!
* Some Restrictions Apply. Read our regulations below for more information.
Posted RV Park Regulations
Check-In is 01:00 PM or later. Check-Out is 12:00 PM Noon or before.
If you need to check-out after 12:00 PM, please contact our office prior to the Check-Out time. There is a $20.00 charge for a late checkout, per spot.
The speed limit is 5 Miles Per Hour in the ENTIRE park, always. Please do not drive through unoccupied spots. Please do not idle with your engine running in front of our office.
Guests and Residents shall park ONLY in the site rented, and not on the grass. No street parking is allowed in the park as this is a violation of the City of Vancouver Fire Code. No commercial units or parking at the facilities (like the office) is allowed.
There is to be no engine or body maintenance for any automobile, RV, or other recreational vehicles allowed anywhere on the premises. Any vehicle dripping any sort of fluid must be immediately seen to, and the spill cleaned up by the resident. In the case of a resident failing to comply with this regulation, we are legally allowed to tow the offending vehicle off of the property at the owner's expense.
Sewer connections must be air-tight and capped; no one wants to smell that. Sewer connections must have a consistant slope / declination to prevent fluid-build up and spillage.
Pets are a privelege. Check with the office or the park map you were given for the designated pet areas and please clean up after your pets immediately. Pets must be kept on leash and attended at all times when outside of your vehicle or unit. No cages are allowed on the grass as they kill the grass. No pets are allowed inside of the facilities (like laundry, shower, or office). *** No Pitbulls or Rottweilers are allowed, we apologize.
Nothing outside of your unit is allowed other than patio furniture, barbeque, and plants. Due to underground electrical and plumbing lines, no stakes are allowed in the ground. No mats, rugs, or tarps are to be placed on the grass. Bathrooms and Laundry Facilities are for registred guests only. Do not give out the door codes to anyone other than a registered guest. Please clean up after yourself and remove your clothes from the laundry facilities promptly. Please follow guidelines and rules posted in the facilities themselves. Be considerate.
Please place all garbage in the appropriate garbage receptacles thoruhgout the park. Please place all recycling in the approriate bin near the garbage receptacles.
Due to prior abuse of the facilities and the property, no vehicle washing is permitted by a private party in the park. If you need to have your vehicle washed in the park itself, there is a $20.00 fee, and we can recommend companies who are licensed and bonded to perform the cleaning for you. Their fees still apply, however.
This park reserves the right to refuse admission to RVs which do not meet any of the park's standards at any time.
Prohibited: alcohol misuse, illegal substances or drugs, firearms, bicycle riding, roller-skating, roller-blading, or skateboarding in the park, tents, clotheslines, generators, vehicle fluid changes, vehicle maintenance, and major vehicle repair.
We assume no responsibility for acciednts or injuries or loss of property; including: theft, fire, flood, wind, or any other acts of God. We reserve the right to ask anyone to leave the premises at any time for any reason. We do record the property and will attempt to cooperate with any law enforcement agency as nessecary should it be required.
No plastic tarps allowed. No personal items are to be left unattended, and no personal items are to be left unattended on the grass.
Management reserves the right to evict, in accordance with all applicable laws, anyone whose behavior is unlawful, who interferes with the enjoyment of other residents, including socially offensive or menacing behavior towards others or who willfully disregards other park rules. No refunds will be given in case of eviction.
A non-refundable deposit is required to make a reservation. If the reservation is cancelled, the deposit will be converted to a cancellation fee.
These regulations are subject to change without notice. Additional rules and restrictions may apply.
Thank you for reading over our park rules and regulations. Residents and guests will be given a copy of our site map and the regulations upon check-in for their use.
Please be considerate, and help make the park a safe, fun, friendly place for everyone! - The Staff